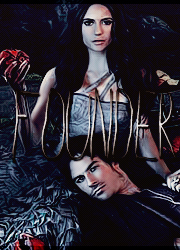 Informations
THE COUNCIL WAS CREATED BY THE FOUNDING FAMILIES A SHORT TIME AFTER THE EVENTS OF 1864. IT'S PURPOSE WAS TO PROTECT THE TOWN AGAINST ANY RETURNING VAMPIRES, BUT NOT THE OTHER SUPERNATURAL THREATS UNBEKNOWNST TO THEM. FOUNDING FATHERS LIKE GIUSEPPE SALVATORE, JOHNATHAN GILBERT, AND OTHERS LEFT THEIR DESCENDANTS JOURNALS CONTAINING INFORMATION ON HOW TO FIGHT VAMPIRES, SUCH AS THE SECRET OF THE VERVAIN. JOHNATHAN GILBERT ALSO LEFT HIS COMPASS TO TRACK VAMPIRES, BUT IT WAS SEPARATED INTO TWO PARTS: ONE HELD BY THE GILBERT'S AND ONE BY THE LOCKWOOD'S.

Thema: Charakterübersicht So Jun 16 2013, 07:41

---

Legende: frei | vergeben | reserviert





VAMPIRE


Caroline Forbes 
Damon Salvatore
Elena Gilbert

Katherine Pierce
Stefan Salvatore
Tatia Petrova




MENSCHEN


April Young
Carol Lockwood
Elizabeth Forbes
Jeremy Gilbert
Kelly Donovan
Matt Donovan 
Meredith Fell




WERWÖFE


Hayley



HEXEN


Abby Bennett
Bonnie Bennett
Lucy Bennett 




URSPRÜNGLICHE


Elijah Mikaelson
Kol Mikaelson
Rebekah Mikaelson




HYBRIDEN


Klaus Mikaelson
Tyler Lockwood


_________________


BITTE KEINE PRIVATEN NACHRICHTEN AN DIESEN ACCOUNT SCHICKEN, DA DIESER LEDIGLICH ZU ERSTELLUNG VON AREAS UND THREADS EINGESETZT WIRD. BEI FRAGEN BITTE AN TYLER ODER MATT WENDEN!