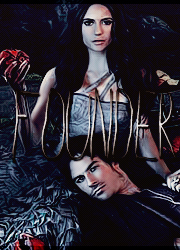 Informations
THE COUNCIL WAS CREATED BY THE FOUNDING FAMILIES A SHORT TIME AFTER THE EVENTS OF 1864. IT'S PURPOSE WAS TO PROTECT THE TOWN AGAINST ANY RETURNING VAMPIRES, BUT NOT THE OTHER SUPERNATURAL THREATS UNBEKNOWNST TO THEM. FOUNDING FATHERS LIKE GIUSEPPE SALVATORE, JOHNATHAN GILBERT, AND OTHERS LEFT THEIR DESCENDANTS JOURNALS CONTAINING INFORMATION ON HOW TO FIGHT VAMPIRES, SUCH AS THE SECRET OF THE VERVAIN. JOHNATHAN GILBERT ALSO LEFT HIS COMPASS TO TRACK VAMPIRES, BUT IT WAS SEPARATED INTO TWO PARTS: ONE HELD BY THE GILBERT'S AND ONE BY THE LOCKWOOD'S.

Thema: Re: Storyline Sa Jun 15 2013, 23:43

---


CHASING RELENTLESSLY
STILL FIGHT AND I DON'T KNOW WHY 




Klaus beschleunigt sein Vorhaben, mit Elena die Stadt zu verlassen, um seine Hybridenarmee zu bilden, jedoch bekommt er von einem neuen Feind Widerstand geboten.

Bonnie zählt auf die Hilfe von Abby, einen schweren Zauberspruch anzuwenden. Als die Dinge aus den Fugen geraten, ist Elena fest entschlossen, Caroline zu beschützen. Damon und Stefan nehmen Tylers Hilfe in Anspruch, wohingegen Bonnie und Jeremy ein furchterregendes Risiko eingehen, damit ihr Zauberspruch auch funktioniert. Damon und Stefan führen außerdem eine aufrichtige Unterhaltung über die Zukunft.

Dazu bestimmt seine Schwester zu beschützen, trifft Jeremy eine Entscheidung, die alles verändern wird. Derweil sehnt sich Elena in der rauen Realität der gegenwärtigen Situation nach der Zeit als ihre Eltern, Grayson und Miranda, sowie Tante Jenna noch am Leben waren und ihre größte Sorge die Beziehung zu Matt war. Stefan und Damon verlassen Mystic Falls, denn sie sind in einer Mission unterwegs. Doch sie müssen sich trennen als Elena einen von ihnen an ihrer Seite braucht. Auch Caroline und Tyler sind gezwungen eine lebensverändernde Entscheidung zu treffen. Letztendlich macht Bonnie eine geheime Abmachung, die herzzerreißende Konsequenzen nach sich zieht.

Elena erwacht am Morgen nach dem Unfall und erkennt, dass ihre schlimmste Vorstellung wahr geworden ist: sie starb mit Vampirblut in ihren Adern und muss sich entscheiden, die schreckliche Verwandlung zum Vampir zu vollziehen oder dem sicheren Tod ausgeliefert zu sein. 


_________________


BITTE KEINE PRIVATEN NACHRICHTEN AN DIESEN ACCOUNT SCHICKEN, DA DIESER LEDIGLICH ZU ERSTELLUNG VON AREAS UND THREADS EINGESETZT WIRD. BEI FRAGEN BITTE AN TYLER ODER MATT WENDEN!